Mobile Equine Emergency Units
Our team is supported by five state-of-the-art mobile veterinary health units for horses. Each unit is equipped with a range of technology, testing equipment and supplies to enable our vets to provide diagnostic services and treatments on location, including X-ray, and ultrasound analysis.
These mobile units also feature heat and refrigeration to provide safe transport for medicines, vaccines, and tissue and serum samples that require refrigeration.
---
For emergencies during our regular office hours, feel free to bring your horse to our clinic.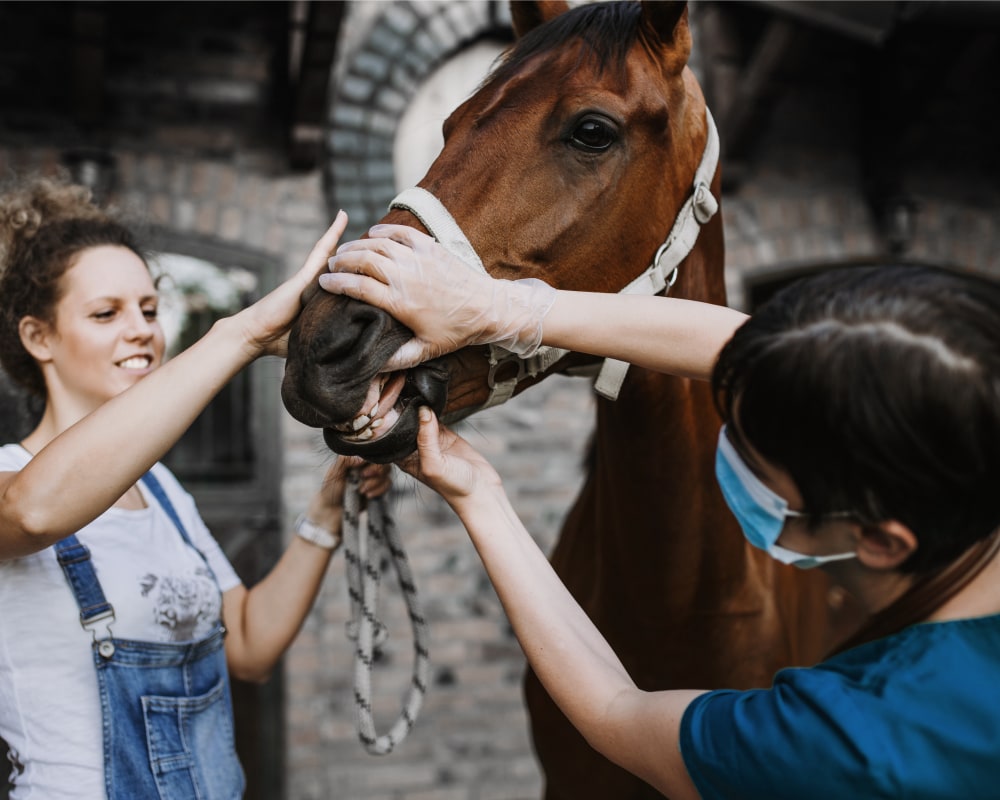 Managing An Equine Emergency
When your horse is experiencing an emergency, it's essential to act quickly but calmly. Read through the information below so that you're prepared should an emergency occur.
Steps To Take In An Equine Emergency
If your horse is experiencing a veterinary emergency, try to follow the steps below.
Stay calm - Your horse will react to your emotions. Staying calm is essential during an equine emergency.
Stay Safe - Keep yourself safe at all times. You will not be able to help your horse if you become injured.
Try to Keep Your Horse Calm - For your horse to feel calm and reassured it is essential for the people around your horse to also remain calm.
Move Your Horse to a Safe Area - Move your horse to an area where they are unlike to cause further harm to themselves.
Get Help from Others at Your Barn - Delegate responsibilities such as calling the vet, holding your horse, and bringing the first-aid kit.
Call Your Veterinarian as Soon as Possible - Provide detailed information about your horse's condition, including vital signs. Your vet will decide how to proceed based on the information you provide.
Do Not Administer Drugs - Do not administer any drugs to your horse including tranquilizers or sedatives, without explicit instructions from your vet.
Emergency FAQs
Even if you've been our client for years if this is the first time you have contacted us for an emergency for your equine pet you are bound to have questions.
Read through our most frequently asked questions below to learn more about emergency appointments with our  Van Roekel & Associates vets.